ÔÊ 56334 - Ôel. +30 6978519943
:: HISTORICAL::

LAMBDA Company was established in 2003 and was initially engaged in the manufacture of electronic circuits and micro-assemblies. Afterwards, we combining our long experience in metal processing with the field of electronics, we started manufacturing antennas and antenna support systems. Radio amateurs, a source of important encouragement and support for us, strongly contributed to this turn.
Today we continue our effort and enrich our products with new antennas and new support systems we also undertake the repair of antenna systems.
Our full range of mechanical and electronic equipment allow us to be autonomous manufacturers of the most complex systems.
We are in position to execute each and every special order in a short period of time and deliver it at your place of choice.

The Hellenic Army Forces, the Hellenic Police as well as other public sector services are some of our clients, who invest us with their trust because of the high-standard services we provide – to us, quality and endurance of construction is of primary importance.
Our products compete on price the respective market products and are ideal for professional and radio amateur use.
It will give us great pleasure to hear from you via email

so that we can resolve any problem and design your Project

:: WAYS OF PAYMENT::


Order now via our electronic store and receive your products by mail.
Payment by Bank Account.or

PAY-PAL You can settle your order by bank account.
Settlement will be done as follows:
Anticipate your order in one of the following bank accounts:

• NATIONAL BANK OF GREECE: 20763379102
• IBAN: GR9801102070000020763379102 BIC: ETHNJRAA
-------------------------------------------------------------------------------------
-------------------------------------------------------------------------------------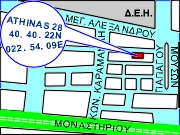 For further information, please contact us

Enquiries - :: xx30 6978519943